MASTER OF SCIENCE IN NATURAL SCIENCE
The Master's of Science in the Natural Science program at Northeastern State University provides students with multidisciplinary training in the Natural Sciences beyond that of the baccalaureate degree. Students gain experience in the design, execution, and reporting of scientific research by completing a research project and Master's thesis. The curriculum consists of formal courses in one or more areas of concentration and incorporates the candidate's background, goals, and objectives. The areas of concentration are Biology, Chemistry and Physics. A central goal of the program is to prepare students for doctoral programs, employment in the natural sciences, or advancement in their current profession.
All students involved in the program are required to conduct research and disseminate the results of their work through appropriate venues. Research training is a crucial part of graduate training in the sciences; thus, this aspect of the program directly relates to the overall objective of training future scientists for their intended career.
Locations:
Tahlequah, Broken Arrow
What Can I Do With A Master's Degree In Natural Science?
Biologist

Chemist

Physicist

College Professor

Technical Writer

Health-related Professional Schools
Did You Know?
The abilities you gain with a natural science master's enables you to work in a variety of scientific and other professional roles. You will have learned to think independently, solve problems, and be analytical in your approach - a skills set that many employers require.
MORE INFORMATION ABOUT NATURAL SCIENCE
Program Requirements
3.0 GPA in last 60 hours

Undergraduate background of at least 20 semester hours in the natural sciences and/or engineering

2 References

Advisor Selection Form
Department Contact Information
Master of Science in Natural Science
Northeastern State University
Science & Health 224
Broken Arrow, OK 74014
Dr. Sung Kun Kim
918-449-6414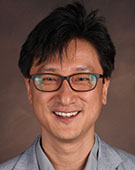 *Fees include: facility fee, student activity fee, infrastructure fee, cultural/scholastic lecturer fee, student ID fee, technology services fee and remedial course fee, if applicable. NSU courses taught at off campus locations or online might have additional fees assessed. These totals are tuition and fee estimations per program based on the current catalog year. Books, supplies and some fees may not be included.
CONNECT WITH NSU GRADUATE COLLEGE!