Master of Science IN LIBRARY MEDIA AND INFORMATION TECHNOLOGY
Interested in Applying?

×

The Library Media program prepares candidates for the changing role of the school librarian in a global and technological society. They are prepared to provide leadership in the total education program, participate as active partners in the teaching/learning process, connect learners with ideas and information, and prepare students for life-long learning. They know how to instill a love of reading and can develop opportunities for their students to be effective managers of information.

Location:

Broken Arrow, Online
Accreditation
NSU's educator preparation programs at the baccalaureate and master's levels are accredited by the Council for the Accreditation of Educator Preparation (CAEP), www.caepnet.org



CAEP advances equity and excellence in educator preparation through evidence-based accreditation that assures quality and supports continuous improvement to strengthen P-12 student learning.

Embedded Certificates:
School Library Media Specialist Certificate
What Can I Do With a Master's Degree in Library Media and Information Technology?
Library Media Specialists may work for:
Local Governments
Schools
Public Libraries
Consultant
Research Assistant
Did You Know?
Employment of librarians and library media specialists is projected to grow 9 percent from 2020 to 2030. About 15,200 openings for librarians and library media specialists are projected each year, on average, over the decade. However, the total number of degrees awarded in Library Science in 2019 was only 6,204. This indicates a 2.39% decline in the number of people in the field. - U.S. Bureau of Labor Statistics; Occupational Outlook Handbook
MORE INFORMATION ABOUT LIBRARY MEDIA AND INFORMATION TECHNOLOGY
Program Requirements
GRE/GMAT if GPA of last 60 hours is under 3.0
Department Contact Information
Master of Science in Library Media and Information Technology
Northeastern State University
Education 160
Broken Arrow, OK 74014
Dr. Alesha Baker
918-449-6451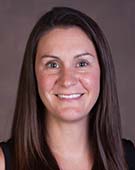 *Fees include: facility fee, student activity fee, infrastructure fee, cultural/scholastic lecturer fee, student ID fee, technology services fee and remedial course fee, if applicable. NSU courses taught at off campus locations or online might have additional fees assessed. These totals are tuition and fee estimations per program based on the current catalog year. Books, supplies and some fees may not be included.
CONNECT WITH NSU GRADUATE COLLEGE!