MASTER OF EDUCATION IN EARLY CHILDHOOD EDUCATION
Interested in Applying?
×
The Master of Education in Early Childhood Education program prepares professionals who are reflective about their practice and who critically analyze what constitutes effective teaching and valuable learning. They expand their instructional repertoires and master an expanding body of pedagogical knowledge while becoming deeply cognizant of the ethical and societal dimensions of early childhood education.
We offer a convenient and flexible online option for busy professionals. Through a unique blend of online coursework and research, graduate students gain critical knowledge in curriculum design, program administration, child development, creative arts, diversity issues, literacy development, and behavioral support.
What Can I do With A Master's Degree In Early Childhood Education?
Early care and education instructor at technology center or community college
ECED Curriculum specialist/coordinator
Child development specialist
Research/writer
Early intervention specialist
Family support and education

Did You Know?
Early childhood education is one of the most important and impactful careers you can pursue. The top reason people choose to pursue early childhood education is the personal rewards and satisfaction that it brings. Early childhood educators have the very real opportunity to make a difference in young lives, and also influence future generations.
MORE INFORMATION ABOUT EARLY CHILDHOOD EDUCATION


Department Contact Information
Master of Education in Early Childhood Education
Northeastern State University
Bagley Hall 131
Tahlequah, OK 74464
Dr. Kimberly Phillips
918-444-3753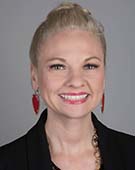 *Fees include: facility fee, student activity fee, infrastructure fee, cultural/scholastic lecturer fee, student ID fee, technology services fee and remedial course fee, if applicable. NSU courses taught at off campus locations or online might have additional fees assessed. These totals are tuition and fee estimations per program based on the current catalog year. Books, supplies and some fees may not be included.