Next Steps to Enroll

What's Next? Now that you have admitted into NSU's Graduate College, it is time to take your next steps. Below are a few essential items you need to address before the semester begins.
1. OBTAIN YOUR NSU USER ID AND PASSWORD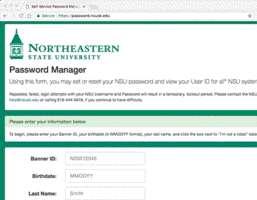 Before you can begin using goNSU and GreenMail, you'll need to retrieve your User ID and Password. You'll be asked for your NSU ID# (sometimes referred to as Banner ID)- it is included on your acceptance letter.
To start this process: Go to the NSU Password Manager and follow the instructions to get your User ID and Password.
If you need help, call our service desk at 918-444-5678.
2. CHECK YOUR NSU EMAIL AND LOG ONTO

go

NSU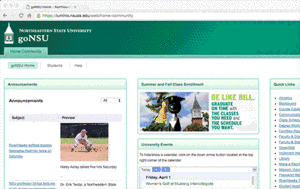 goNSU is the online portal to almost everything at NSU. It allows easy access to your financial aid awards, account balance, transcripts, semester schedule, advisement sessions and to enroll in courses. Note: You will not be able to login to goNSU until the semester you have been admitted for is opened.
You can also access your NSU email account (GreenMail) through goNSU. GreenMail is how you will receive important NSU correspondence. The Office of Student Financial Services will communicate exclusively through GreenMail, so check it often.
If you need help, call our service desk at 918-444-5678.
3. CHECK YOUR HOLDS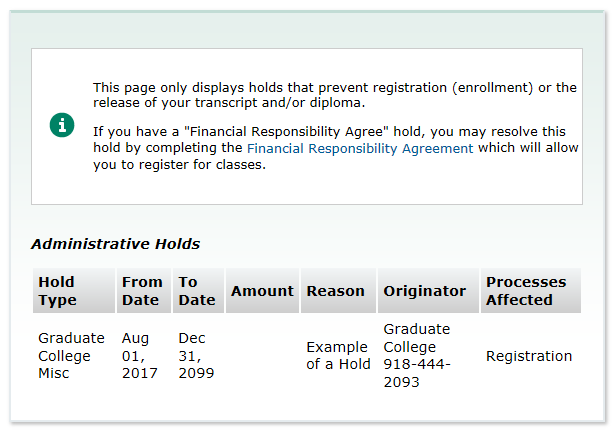 Once you log into your goNSU account click on the Students tab to check your holds. The holds tab will be under your Enrollment Checklist section labeled "Check your holds". Your hold screen will show you various holds that may be placed on your account. Some of these holds, such as Program Admission, Degree Plan, Entrance Exam, and Financial Holds may prevent you from enrolling or dropping classes. Most holds can be resolved by calling the Graduate College or the contact information given within the hold message.
Every Semester, you will have a financial responsibility agreement hold . You must complete this checklist item before every term in order to enroll. Please use the step-by-step video below to resolve this hold.
4. SCHEDULE YOUR PROGRAM ADVISOR APPOINTMENT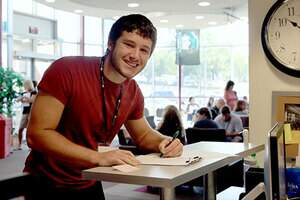 The next step toward becoming a RiverHawk is enrollment. Your academic success is NSU's top priority that's why your top priority now is to schedule an appointment with your program advisor before enrolling. No matter which campus you plan to attend, your advisor will help with the transition to NSU and prepare you for the rest of your academic career.
Your letter of acceptance (enclosed in your packet) has the contact information needed to schedule your appointment. We want to provide you with the best possible service, and you can help make that happen by following the instructions carefully. Act now to ensure an early appointment.
5. apply for scholarships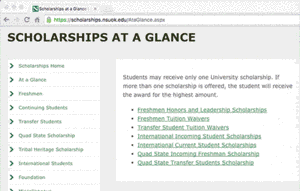 Be Sure to apply for scholarships. Northeastern State University offers a variety of scholarships to incoming students. The process is quick and easy, and you can apply for multiple scholarships on one application. We have scholarships for students with financial need, children of alumni and many more. Begin the process online by visiting the Scholarship Office.
Learn more about tuition. We also encourage you to visit the NSU Cost Calculator.



6. Enrolling for Courses
You must use goNSU, NSU's online self service system, to register for classes.

If you need help enrolling, here are the some resources to help you enroll:

How to Register for Classes - Document

CLICK HERE


CONNECT WITH NSU GRADUATE COLLEGE!