Tricia Price Diaville, Instructor of Communication Studies
An instructor of speech at Northeastern State University, Tricia Diaville earned her undergraduate and graduate degrees in communication from Northeastern. She spent some time working in the public relations industry before coming back to the academic field.
I first heard about NSU as a high school student, said Diaville. I can honestly say I wasn't planning on coming to school here, but God works in mysterious ways, and I came here as a college freshman and didn't leave until after I had obtained my master's degree.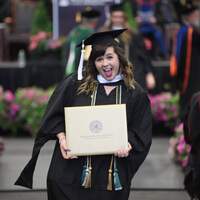 In addition to teaching, Diaville serves as a coach for the NSU Speech and Debate Team and is involved with multiple groups, including the Oklahoma Intercollegiate Forensics Association for which she is the secretary, the Oklahoma Speech Theater and Communication Association and the American Association of University Women. She has also presented personal research and projects with NSU faculty multiple times at Central States Communication Association's annual conferences.
I would encourage students to get involved in organizations both related to their field of study, as well as unrelated, said Diaville. Professional organizations are a great way to make contact with others in your field and learn new research and approaches in the field. Getting involved with other nonprofessional groups is also rewarding, especially if you are able to help others.
Diaville is considering a doctorate degree to further her career as a communication professor.
My personal teaching philosophy is that learning is a never-ending reciprocal process, said Diaville. Students can learn just as much from each other as they can from me, and vice versa. I work diligently to create an open learning environment where students feel comfortable engaging with each other, as well as with me. If we can break down some of those barriers to communication and have an open environment where students feel free to exchange ideas and processes, then the level of learning and personal growth can increase exponentially.
The student population at NSU was one of the biggest factors in Diaville's decision to teach here. She finds NSU unique for its Native American heritage and school pride that is shared throughout the campus.
The students are the heartbeat of any university, said Diaville. NSU's students are actively involved with the university, as well as the surrounding community, that makes a unique dynamic that you don't find in many places. They are hard-working, proud intellectuals who are focused on bettering our country and world. I am confident that the future will be impacted by more than one RiverHawk.
As a student, NSU had an impact on Diaville's life personally, academically and socially. Her goal is to leave a mark on her students in the same way her professors did.
There were people here that saw a potential in me that pushed me to achieve things beyond what I could have imagined for myself, said Diaville. If I can be that for just one student, if I can impact one person the way that others here impacted me, then I would be happy.