Shiann Wingfield, M.S. Criminal Justice
Shiann Wingfield is an alumna of the criminal justice master's program at Northeastern State University. She graduated with her undergraduate degree in criminal justice in the spring of 2012 and immediately began working toward her graduate degree, which she received in December 2015.
I had a great undergraduate experience at NSU and I felt very at home in Tahlequah, said Wingfield. I chose to stay for graduate school in large part due to the positive influences I had in the department, at that time namely Dr. Amy Proctor and Dr. Cari Keller. I also loved my degree program and felt that I wasn't done learning in a collegiate setting yet.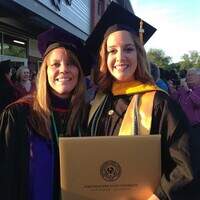 As a graduate student, Wingfield spent her time as a member of Alpha Phi Sigma, as well as being a graduate assistant while working two jobs.
My graduate assistantship taught me skills that have significantly benefited me in my professional and personal life, said Wingfield. I worked with multiple faculty members and learned how to set reasonable expectations for what I could and could not accomplish in a given time, and I learned how to articulate those realities to faculty members. I learned how to prioritize tasks and my time management skills improved drastically over time. I am now in a management role and think back to what I learned as a GA regularly. I would not be as competent or as confident as I am professionally without that experience.
Since receiving her graduate degree, Wingfield has worked in Dallas, Texas for Farmers Insurance in the Fraud, Theft and Vandalism Claims and Investigation division. She is currently working in Tulsa in a management position.
In my experience, the faculty is made of many professionals who have experiences in various related fields, and that diversity matters for your education, said Wingfield. The faculty directly influence you and that variety of professional experiences is a huge asset. Take advantage of that. Also, Tahlequah is an incredible community and is supportive of students and the university. It's a great place to live.
Wingfield encourages students who want to pursue a graduate degree to start now, and not to let too much time pass before graduate school or it will be more difficult. She also recommends a master's degree because it moves an applicant ahead of others in the line of employment.
If you are able and willing to dedicate your time to it, do it, said Wingfield. Do it now it gets more difficult the longer you wait. Don't expect to skate by it's demanding. However, in my experience, my education and my graduate degree in particular have helped me with promotions and professional development. I would do it again. My career path currently has nothing to do with criminal justice. I have found that in many industries, the field of study for a secondary degree is immaterial. They just like that you have one. My hiring manager has made it clear that my secondary degree and the skills I brought from that were significant factors that separated me from the other applicants when I applied for my most recent promotion.