Kristian Marshall, Health & Kinesiology
Kristian Marshall graduated with a Master of Science in Health and Kinesiology from Northeastern State University in 2018. Offered on the Tahlequah campus, the program continues the development of practicing health and physical education teachers.
The master's part is helping you get ready to go out and help with health promotions, said Marshall. It's set up for a lot of physical education teachers and coaches who want to get a higher degree.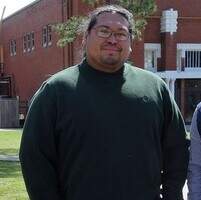 Marshall started school in 1998 and graduated in 2004 from NSU with a bachelor's degree in biology. Between his undergraduate and graduate years he took a break to work, and completed a second bachelor's degree in Health and Exercise Science in 2010 from the University of Oklahoma before returning to NSU for his master's degree in 2016. He finished his master's degree and graduated in the spring of 2018 and is currently in pursuit of his doctorate degree.
I've just been accepted to Oklahoma State University and the University of Arkansas, said Marshall. So, I have to make a decision. I got accepted for a teaching position there [at OSU], and they'll pay for my school. I still have to talk to Arkansas and see what they will offer.
Marshall plans to conduct research projects and go into the collegiate teaching field after receiving his doctorate. Through the master's program at NSU he received hands-on practice teaching students.
My last year here in my graduate program I did the graduate assistantship, said Marshall. They had me teach physical education classes, so I talked about walking for fitness, and then I taught the billiards class. I don't think they have that anymore, I think I was the last one.
One thing Marshall enjoyed about the graduate program was the flexibility of his schedule.
Most of the classes are in the evening, said Marshall. They have the classes every eight weeks, so you'll go one eight-week term and that'll be one class, and the next eight weeks you start the second class.
Marshall says during his time in his graduate assistantship he grew closer to his professors, who encouraged him not to stop after achieving his master's degree and to push on to get his doctorate.
To students hesitant about graduate school due to the difficulty level, Marshall said graduate school isn't as intense as others have made it out to be.
Don't let the idea of graduate school overwhelm you, said Marshall. It's a lot different than undergraduate school, but graduate school is really made for people like working adults. If you're working, they know that and so they try to work with you.