Kaylee Swenson, M.A. American Studies
While a bachelor's degree is the end of the road for some students in their college career, others continue into graduate school. Kaylee Swenson is a 2018 graduate of the Northeastern State University American studies program. She has attended NSU since 2013.
I had some people who I worked with who had been in the communication program in the grad college, said Swenson. That's what I thought I originally wanted to go into. Ultimately, looking at the class list, I decided communications didn't have the most options, and I wanted to go into American studies instead.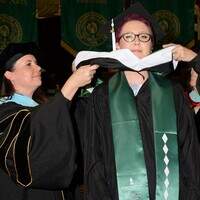 Swenson is a transfer student from Wichita State University in Kansas, where she completed her freshman year of college before moving to NSU. She began working for the housing office during her time as a student, which ultimately led her to apply for graduate school.
I decided to apply for an upper-level position [at the housing office] at the same time, and they kind of went hand-in-hand, said Swenson. If I was going to apply for this position, I was going to go to grad school so that I would stay for two more years.
Swenson says the smaller campus and community aspects of NSU appealed to her when she transferred.
I really liked how small the school is. Wichita State is a much bigger school, said Swenson. I liked how homey NSU was. It's small, and it had its own community; whereas, in some of those bigger schools it's easy to get lost.
Swenson graduated with a Master of Arts in American studies, which is offered on the Tahlequah and Broken Arrow campuses. It explores a wide range of fields including criminal justice, geography, sociology and women and gender studies.
There's a lot of different options, but mainly it consists of a lot of history, law, political science and culture classes as well, said Swenson. You can choose what to focus on, so if I wanted to do just culture, I could have taken more culture classes, but I ended up taking more history and political science classes.
In the American studies program, students have the option of doing a thesis or an internship. Swenson chose the latter, and is interning at the Day Center of the Tahlequah Area Coalition for the Homeless.
I get to work with the homeless population of Tahlequah, said Swenson. In addition to it being with a very specific demographic of American culture, it's also a nonprofit. A lot of nongovernmental organizations are nonprofits, so being able to work in that industry gives me an idea of if I want to work with nonprofits in the future with this degree.
Swenson encourages students considering graduate school to find professors in their degree field who they connect with and can go to with questions or for advice.
It's small, but through my degree I was able to go through a lot of cross-listed classes, so I was able to do a lot of focuses in areas outside of my planned degree, said Swenson. I really appreciated that because it gave me a lot more flexibility with my schedule. I would recommend American studies to anybody. There's a lot more options, and you can really study what you're interested in studying.