Dr. Sarah Turner McGowen, Assistant Professor of Communication Studies
Dr. Sarah Turner McGowen is an assistant speech professor at NSU, whose history is deeply rooted in Northeastern State University and the Tahlequah community.
I love NSU, said McGowen. This school is very significant to me personally, professionally and academically. I grew up in Tahlequah, basically a mile from campus as a kid, so we were very involved with the university. My parents met here. I met my husband here. I have a lot of personal ties to this school.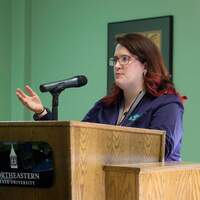 Learning. McGowen completed most of her higher education at NSU.
My undergrad degree I received in 2008, said McGowen. This was back in the day when it was called mass communication instead of media studies. I have an emphasis in journalism and my minor was communication studies.
McGowen was a transfer student. She was originally in an accelerated law program before coming to NSU.
I didn't know what I wanted to do at all, said McGowen. I had geared my entire high school and first year and a half of college toward being an attorney. I was in a prelaw program, a year and a half of that and I decided that I did not like it.
After transferring to NSU, McGowen was aided by Dr. Dana Eversole of the Media Studies Department who helped her build her schedule. McGowen received her undergraduate degree in 2008 and her graduate degree in 2011.
McGowen said she wasn't sure what she wanted to focus on in her graduate degree because of her interest in multiple different topics.
I took a lot of media classes, said McGowen. Our program is a generalist program so we expose our students to a little bit of everything. The specialization you get in our program is self-guided, based on the classes you take.
After receiving her graduate degree, McGowen went on to receive her doctorate in communication with an emphasis in political communication at the University of Missouri, which she received in 2017.
Teaching. The culture of engagement on NSU's campus was one of the many things that drew McGowen back to NSU to be a teacher.
I knew I would be a good fit in the department and on campus because I had been here for so many years in so many varying capacities, said McGowen. I liked that we had smaller class sizes, I like that our emphasis is on being a good teacher in the classroom, and that there is a culture of engagement, scholarship and doing research."
"There are a lot of different activities that we have on campus. We have a good student body population on here, and I knew they were doing a lot to the campus to re-energize it. I feel like it was meant to be. It felt completely right for me to get to come back.
McGowen teaches primarily on the Tahlequah campus. Her method of teaching focuses on creating a place where students can discuss their thoughts without fear.
I like to think of myself and my students as equals in the classroom, said McGowen. I try really hard to create an environment where my students feel they can explore ideas in a way where they're not going to be persecuted or attacked by me because it's an opinion that I don't have.
McGowen said she learns from her students every semester. It's something she thrives on as a teacher.
I like that my students are individuals outside of the classroom, and that they all bring something different to the table, said McGowen. They're each bringing something to me and to each other that they may not otherwise have exposure to. We have a large, nontraditional population at NSU, we have a lot of students who work full time, have families, who may be first generation college students. I like that my students are bringing all those life experiences with them that I think just enriches the material, and helps us build a connection better.
Encouraging. McGowen strongly encourages students to get involved in campus organizations for personal and professional reasons.
I was not a political science major, said McGowen. But I was in Oklahoma Intercollegiate Legislature because I had a friend who invited me to the meeting, and I met people that I am still friends with. My best friend from college I met that way, I met Dustin my husband that way.
In addition to providing skills and experiences that students can take and apply back to their degree or career, organizations also provide students with leadership skills.
If you find an organization you're interested in and you're passionate about, you're more likely to try and take a leadership role in it, said McGowen. That leadership role is going to benefit you in any career you take, because you have to have more responsibility, you are representative of your peers and colleagues, and it gives you opportunities to let your strengths shine and put them on display.
McGowen said the faculty of NSU are very student-focused, the mission and charge of the university is to do what they can to help students be successful in and out of the classroom.
NSU is filled with professors who care, said McGowen. You don't get accepted into a program to be allowed to fail. We invest in you the same way you invest in us. If you decide to apply and get accepted, that's a sign of good faith on our part. We believe in you, otherwise you wouldn't be here.