Cody Robinson, M.S. Higher Education Leadership
Cody Robinson is a 2016 graduate of the higher education leadership master's program at Northeastern State University.
Robinson arrived at NSU in 2009. He had heard about graduate school but didn't think it was for him. Robinson's criminal justice mentor and advisor, Dr. Brett Fitzgerald convinced him otherwise during his junior year.
He [Dr. Fitzgerald], said, I'm telling you, go to grad school, learn a specialization, get your education, and you can do whatever you want with it. So I did."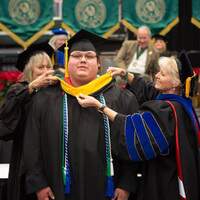 Robinson says the graduate school at NSU has helped him with networking and finding resources. He served on the NSU Graduate Council as a student representative throughout his time in graduate school, and helped find ways to shift students towards furthering their education by investing in themselves and pursuing a master's degree.
I think the more education you get, the more people you're able to meet, the more skills you're able to learn, said Robinson. Since NSU has one of the best teaching colleges in the state, a lot of that pedagogue, learning, and how to teach shifts itself into the graduate college. I think that's a valuable asset we have that no other university has.
Robinson said he considered taking a break after receiving his undergraduate degree in criminal justice, but decided to stay while there were still familiar faces on campus that he knew wanted to invest in him. Robinson was set on staying at NSU for graduate school.
It's the people, said Robinson. It's a really laid back atmosphere at NSU. The campus is beautiful. I've heard we have every single indigenous tree to Oklahoma, and that just might be a little thing, but NSU prides itself in detail. It prides itself in those little things that make Tahlequah and our campus so charming. I love that.
Robinson's curriculum included university administration classes that involve the mechanics of how the university system is set up, leadership classes that teach students how to better manage and understand where people are coming from, along with six hours of research.
It kind of blended together into something that I have been able to utilize here and give back to my community at the Wesley Foundation, said Robinson. Whatever you learn in your master's program, you're kind of expected to use that wherever you go.
Robinson currently attends the Phillips Theological Seminary in Tulsa where he is pursuing a master's degree in divinity, which is a professional degree for those who want to go into ministry.
I took everything I've learned from NSU, and I apply it with learning my religious studies, said Robinson.
Part of Robinson's time in graduate school included hands-on learning opportunities such as working as a graduate assistant for Student Affairs on campus.
Robinson served as a graduate assistant for Student Affairs under Dr. Jerrid Freeman.
I'm glad that I had the opportunity to really see how a university is ran and all the things that go on, said Robinson. It was hands-on, boots-on-the-ground this is how we're doing it.'"
According to Robinson, he's been able to draw from his experience, such as learning how to handle a crisis, address issues and help people find the help they need. He was also able to further his skills by working with campus and national organizations such as the Stonewall Equality Alliance, Kappa Sigma fraternity and NASPA, where he had the opportunity to present his research at the national organization focused on higher education student affairs.
I took advantage of everything that being a grad student had to offer and it really paid off, said Robinson. I learned so much, met so many people and was able to give back so much. I encourage grad students not to just go to school and then go home. To really get involved--I mean you're paying the money, someone's paying it you might as well get your bang for your buck.
Robinson encourages undergraduate students who are seeking a graduate degree to always ask questions and follow their passion.
My master's is not what I got my undergrad in, said Robinson. But I'm grateful for having both of those degrees. It makes me more versatile; it makes me more aware. If you're an undergraduate thinking about grad school, find out what you want to do, find out what you want to learn about and really look for programs and see what they offer as far as scholarships, as far as assistantships, who the professors are that's teaching your classes. The people in your program are going to be your mentors who can help you up with jobs and give you life advice. As a student, I recommend you really do your homework and have fun.